MY BELIEF
Art is made from within.
It is a self belief that can't be copied or replicated.
From my time in the defence as a Naval Officer to driving full-time around Australia to landscape photographer to digital artist getting out and exploring the outback has always a number one for me.
20 years on in the photographic business I have had my share of ups and downs which have taught me a lot, and it is these life lessons I use to drive me forward to the next thing.
Currently, that is a new gallery in the CBD of Darwin.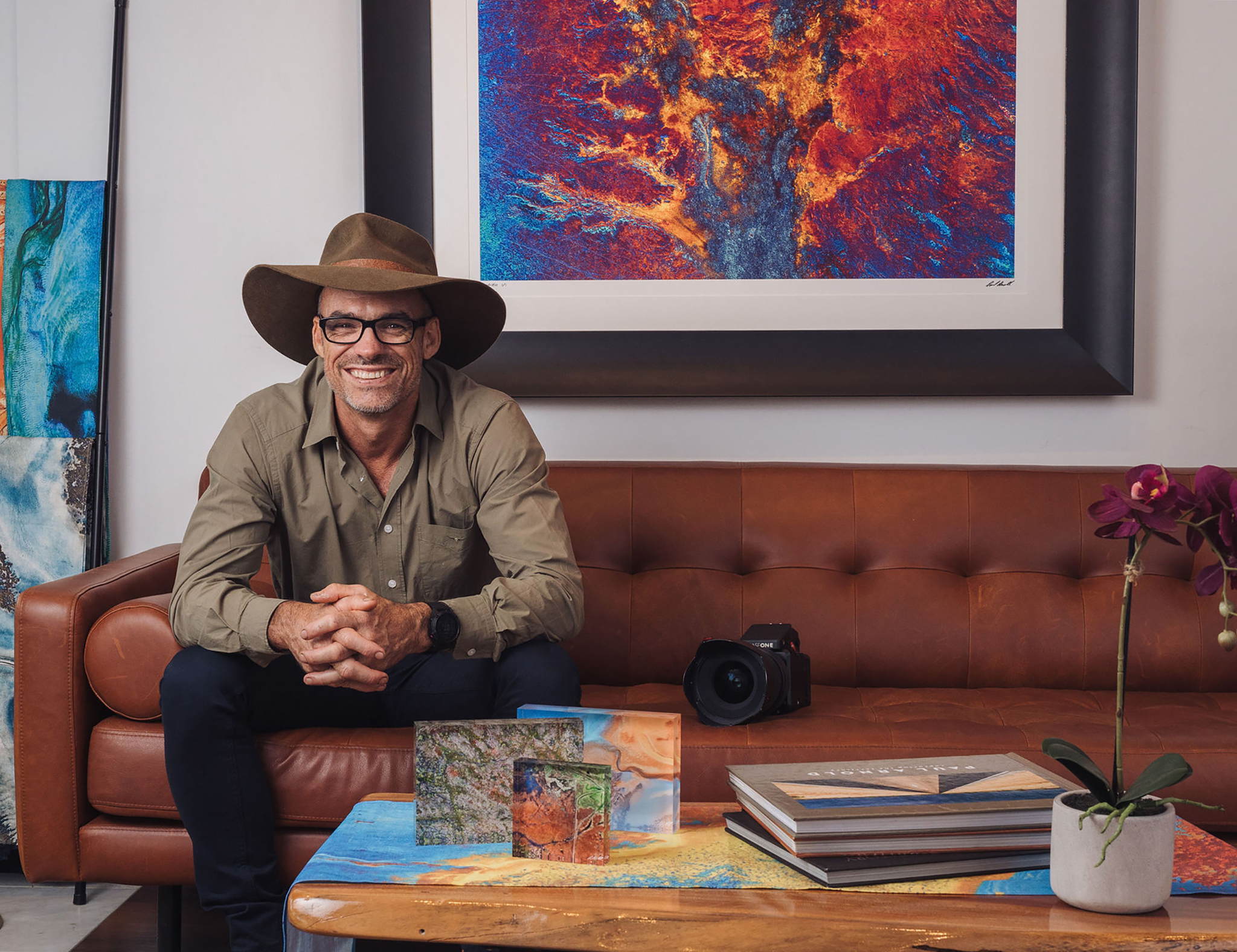 My Story... still continuing
The new challenge came as I took to the air. My mate took me for a spin in a Drifter, which is an ultralight aircraft and I was hooked. It was an adrenaline rush and I was in a space not many could get to. All I needed was aircraft with no door so I could get a perfect view of the ground below.
This flying concept quickly meant it was time to take my business to new heights. So again it was time to move the gallery. In 2019 I moved into the mall to leave behind landscape photography and become a digital artist. Not sure how I was going to do that and what it would look like but I just wanted that challenge and wanted to feel the hunger to push ahead.
A collaboration with the design brand Camilla where my aerial images were used on 4 of her designs launched the gallery, the new logo and Paul the artist. 6 months later Covid struck and a challenge like I had never experienced began. I was a victim of the pandemic and circumstances and had a mental breakdown. I shut the gallery for 2 months and with the support of mates and businesses I took stock of life. Quitting wasn't an option – I didn't know how to.
The next 18 months were grit and grind and push through COVID to develop a business model that was new, unique, and would stand the test of time. I looked at how artists work and in that world, there is only ever one original.
I'm an artist so it was time to make every release 1/1. Time to have no second editions, time to not to sell as many as possible. Time to remove the mass sales in a world where everyone could have the same but I felt would enjoy the idea of having what no one else had.
It was time to give my clients and followers the opportunity to own art that no one else could have. The one difference for other artists they can digitise their art and sell prints. Mine is digital art so having prints is not possible. That is the unique concept about the original idea there is truly only one.
2004 I was a card table at a market with a 20-year-old car bashing my way around the NT selling as many prints as I could. Now I have the third iteration of my gallery I fly around the NT and sell one of each piece.
Thanks for reading my story of resilience and drive. Please appreciate and enjoy my work.
Paul
Art is more than capturing a moment be it with a camera, a paintbrush, or a pencil, it's about seeing, anticipating, and activating the artist's chosen medium at the right time for the right moment with feeling, consideration, and thought.
When I started my business in 2004 I didn't know or understand much about business but I worked hard and shot from the heart. I would do the markets all around Darwin and any pop-up stall that would have me. I would travel to Kakadu in between and chase 4m plus crocodiles in my 3m tinnie just to get that next shot. I drove to the corners of the Territory just to get into a space no one had been to before. The NT was my backyard and I knew every part of it and captured light, colour, wildlife, and majestic landscapes to bring back to Darwin.
After opening my first gallery in 2008 I kept up the pace but added a 7 day a week gallery to the mix. My work went to all corners of the world but I needed the next thing. I upgraded to the Phase One camera system using the 50megapixel camera in 2008 and decided about 2012 to retire the wildlife gear and concentrate on the landscapes. I didn't know it at the time but that was the first of many big decisions that lead to constant change and to the place I am now.
Time for the gallery to move in 2015 and take these changes to a new space. I created this outback shed gallery and started to sell the general outback style of landscape photography. This was great for a few years but I needed more of a business challenge. My style changed again as had my cameras.
Focusing on the landscapes led to further changes not only in camera upgrades to the 80-megapixels then the 100-megapixel and currently the 150-megapixel system. But what I wanted to photograph changed also. I started to focus more on objects and detail especially close-up detail. The standard landscape was not challenging anymore and with social media, it was hard to stand apart and be different.
Look forward if you want to lead not behind you - one of my ways of reducing the stress of making decisions.
I'm not afraid of change and the unknown. That's why I have lasted 20 years in one of the most competitive and challenging industries in the world - everyone has a camera.
Tough day in the office.
Cape York 2016 end of long session bogged on the beach.
Most of my trips over the past 20 years have been solo and this trip to Cape York in 2016 was no exception.
I undertook it in the wet season and saw some epic country. I gave the winch a massive work out and my resolve to get mobile again before the tide got me was tested on many an occasion.
I enjoyed a cold beer at the end of this day I remember that.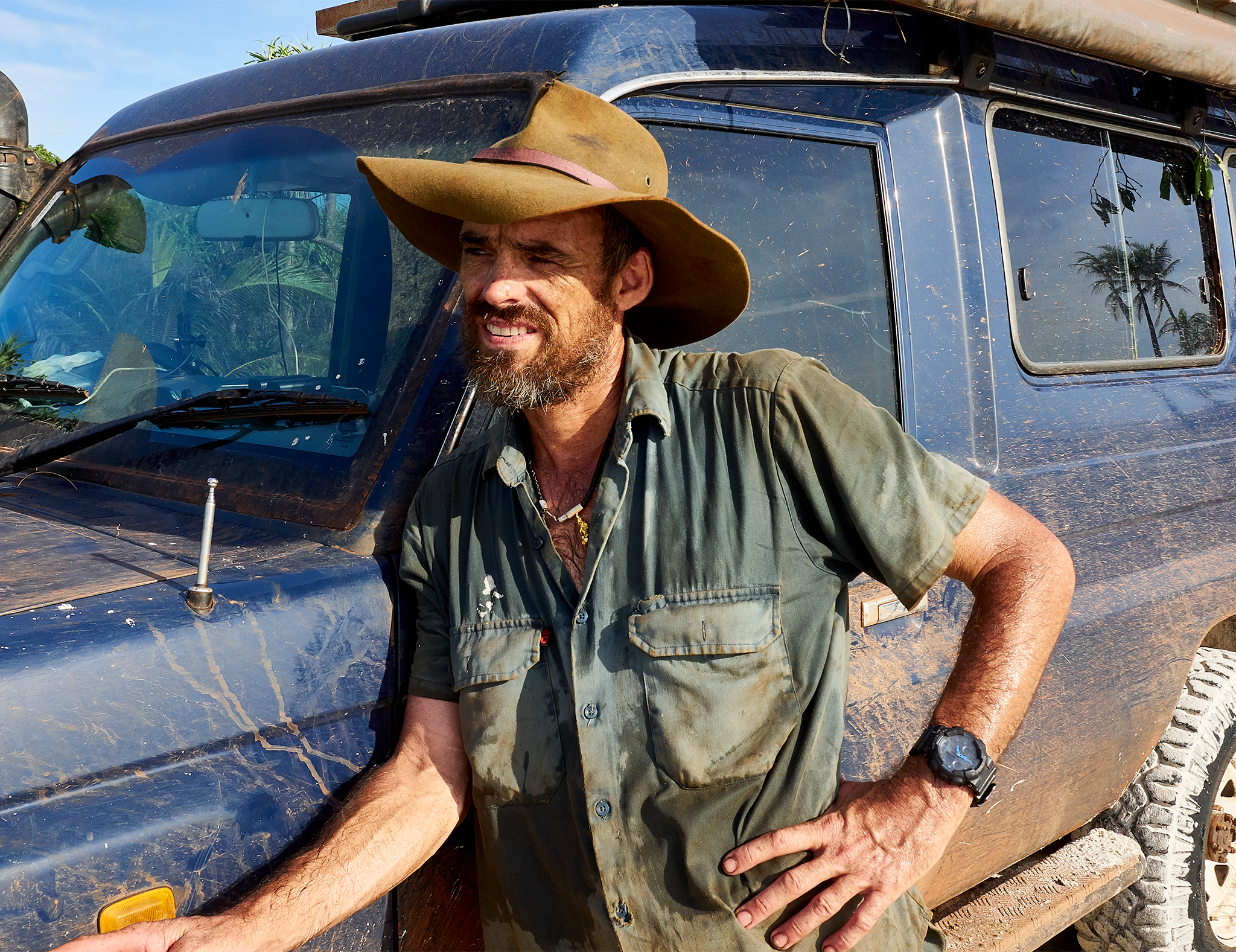 Selfie - Lake Eyre 2010
The silence in Belt Bay at the bottom of Lake Eyre was intense. Not a sound from nature could be heard.
DISCOVER THE BLOGS